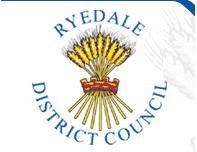 In April 2011, Ryedale District Council launched a campaign against the blight of dog fouling. A lynch pin of this operation was Dog Warden Brian Dunn (pictured right). The "grass them up" theme was prominent in this campaign, which encouraged local people to pass information to Brian regarding the identities of those, who allow their dogs to foul public areas without cleaning up.







The poster shown to the right was a leading instrument in this revived campaign. You might agree with me that this is very welcome action and we are all behind Brian (clearly a dog lover!) in the relentless battle to keep our streets and parks clean.

Things, however, are not always as clear cut as they seem. The Malton and Pickering Mercury reports that a second ticket has been issued, by Brian, for an offence of dog fouling.

The question we must answer is; "is this a triumph"?


Let's face it, two tickets in nine months can hardly be described as a deluge! Inspector Tim Hutchinson (left), head of Ryedale Police said: "Dog fouling can be tackled by the whole community working together. Some dog owners think they can get away with not picking up after their pet if a dog warden is not around.But as more and more people come forward to report dog fouling offences, irresponsible dog owners may start to think twice about their actions." Come on, Tim! Two tickets hardly implies that the community is behind this effort! Or is it that dog fouling has ceased to occur in Ryedale? I think not!

Yet another dilemma. The community complains but the community fails to act!

I can only leave you to read the article here.